If you've begun preparing to tackle your 2023 resolutions, buying a hot tub can help you reach your goals this year and enjoy every step of the journey.
Whether you're working towards living a healthier lifestyle, prioritizing quality family time, or want to refresh your home with exciting new updates, adding a hot tub to your backyard can go a long way!
The hot tub industry has been booming for decades, and over that time, the market has exploded with various brands and models to choose from.
While this certainly provides you with an abundance of options, it can also complicate the buying process.
It's not uncommon for people to begin their search only to become overwhelmed by the number of options available, but buying a hot tub should be anything but stressful!
That's why we've created this guide.
We're going to walk you step by step through the process of finding your dream hot tub and answering some common questions you may have.
Ready to get started? Keep reading!
5 Things to Consider When Buying a Hot Tub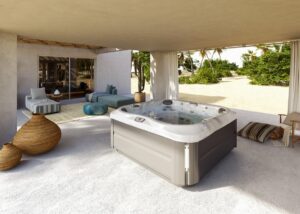 Choosing the right hot tub for your goals and lifestyle is essential, and it's easier than you may think.
By considering these five things before beginning your hot tub search, you'll be able to easily narrow down your options and find the perfect one for you.
1. Your Budget
The amount of money you've decided you can allot towards a hot tub will be a large determining factor over which models would be best for you.
Hot tubs come with a wide range of price tags, from a few thousand to over $25,000!
You may be wondering how hot tubs can have such a big price range, and the answer really comes down to three things:
The features that are included
The quality of the hot tub
The size of the hot tub
These factors play a significant role in what a hot tub is listed at, however, not every dealership will expect you to make a large upfront payment to afford your dream hot tub.
While not all dealers offer financing options, at Sun Pools we've partnered with Wells Fargo to ensure everyone can easily afford their perfect hot tub without having to worry about large upfront payments.
This means you won't need to compromise on the size of the hot tub you want or the features you desperately need your spa to have.
2. Hot Tub Size
Whether it's because of the size of your backyard or how large your family is, there's a hot tub option for everyone.
With sizes ranging from small models suitable for three people to ones that fit nine, it's easy to find a hot tub that can meet your needs.
Which hot tub you ultimately choose will depend on your lifestyle, backyard, and personal preferences. Whether you want to enjoy sharing your spa with your friends and family or are trying to create the ultimate solo escape in your backyard, there's a hot tub for it all.
For example, if sharing your hot tub isn't high on your list of needs, and you're searching for a way to boost your self-care routine, the J-215™ would be a great option that doesn't compromise on the luxurious massage you want.
On the other hand, if you love the idea of having your kids join you in your spa and want space for them to play, the Bali might be more your style. With enough room for seven and a seat to soothe your aching muscles with a full-body massage, you'll get to have it all.
3. Must-Have Features
Each hot tub comes with a standard set of features built into the base model, with many offering additional features you can opt to add on for an additional fee.
The features you want your hot tub to have is an important part of the buying process.
Hot tubs can have a substantial impact on your life through their impressive range of benefits, and choosing the right features to meet your needs will ensure you can soak up the benefits that matter most to you.
Some features worth considering in your spa include:
Lounge seating
Waterfalls
LED lighting
Advanced filtration systems
Watercare systems
Types of jets
Jet configurations
Advanced control features
How you plan to use your hot tub, and the goals you're working towards will have a large impact on the features that you'll want to ensure your spa has.
For example, if you're one of the over 60 million Americans that suffer from chronic pain and you want to use your hot tub to help manage that pain and provide long-term relief, your features will be a big factor to consider.
In this case, you'd want to look for a model that includes a full lounger to massage your body from head to toe and has a jet configuration that can target the right muscles responsible for your pain.
For example, the Biscayne from PDC Spas includes a full lounge option with jets that target your shoulders, upper and lower back, wrists, calves, and feet, providing a full range of relief.
4. Your Installation
Hot tubs can be installed both indoors and outdoors, as well as in-ground or above ground.
This gives you plenty of ways to install your hot tub to best suit your lifestyle, however, each one comes with its own requirements and preparations.
The simplest option that many people opt for is an above-ground, outdoor hot tub installation. For these installs, you'll need a level, strong foundation, such as a concrete pad or your existing patio or deck, and a power source nearby.
Installing a hot tub indoors, however, can take a little more planning. Whether it's how you'll get it into the room or planning a proper ventilation system to handle the moisture and chemical off-gassing.
On the other hand, an in-ground installation requires significant work. For these installs, you need to choose a location, dig the hole, ensure you have a proper foundation for your spa, and make sure you have a way to access your hot tub's control panel after it's been installed.
Whichever installation you choose, you'll need to take the necessary steps to ensure you're ready for your hot tub when it arrives.
Additionally, with some installs requiring more work, the cost will increase, such as with an in-ground installation, so you'll need to factor that into your budget.
5. Required Hot Tub Maintenance
In order to function well and maximize the lifespan of your hot tub, you'll need to follow a strict maintenance schedule.
This will include things such as:
Testing and treating your water
Draining and cleaning your spa
Cleaning your filters
While maintaining your spa doesn't have to take a long time, it does need to be done on a daily, weekly, monthly, and quarterly basis, with certain steps taking more time and effort than others.
The great news is there are ways you can help keep maintenance times low. This might include things like ensuring the hot tub you buy includes systems that help maintain your spa for you or buying a hot tub from a dealership that offers hot tub service solutions.
If you live a busy lifestyle and want to make hot tub maintenance as easy as possible, the J-355™ from Jacuzzi®️ Hot Tubs would be a great option.
With its CLEARRAY®️ Water Management System and ProClear®️ Filters, your water maintenance will be a breeze, maximizing your time spent relaxing under its crystal clear water.
Is It Worth It to Buy a Used Hot Tub?
While used hot tubs can help you maintain a smaller budget, they aren't the ideal solution. We don't recommend settling for a used hot tub.
Not only do they make it difficult to judge how much use you'd get out of your spa before experiencing problems, but they also don't allow you to customize your experience, forcing you to compromise on your "must-have" features.
Above that, you also won't have any warranty when buying a used hot tub, which is an essential part of protecting yourself and your investment.
Your best bet is always to buy new, ensuring you get a top quality product at a fair price, as well as a warranty and a dealership whos there to support you long after your spa has been installed.
Buying a Hot Tub in New Jersey
Whether you're searching for the perfect hot tub to throw memorable family gatherings or want to create an intimate oasis in your backyard, Sun Pools in Green Brook, New Jersey, can help!
Our showroom is stocked with models of every style, from both Jacuzzi®️ Hot Tubs and PDC Spas, giving you the perfect way to find the one that can easily meet all your needs at the price point you need.
Contact us, or visit our showroom to get started today.
Already a hot tub owner and need your spa serviced? Get in touch with us, and our experts will be happy to assist you and get your spa back up and running at its best.