Putting a pool in your backyard can give you your own warm-weather oasis, a fun place for adults and kids alike.
Sun Pools wants your above-ground pool to be a successful venture, so you need to do a bit of homework before you sign papers, make a deposit, or commit to any installation or construction.
4 Top Questions to Consider Before Getting an Above-Ground Pool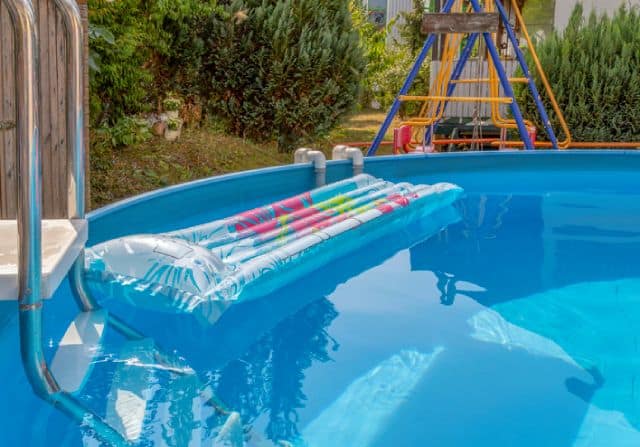 Here are a few important questions to ask yourself and your vendor. The answers will help clarify your thinking and assist in making the right call.
Can we afford it?
You won't be floating in the pool with a smile on your face if your debt load is too high. Whether it's a few hundred dollars or a few thousand, your ability to pay for the pool might well impact your ability to enjoy it.
However, the initial cost of an above-ground pool can be much lower than an inground pool. But don't forget to factor in the annual costs of operating and maintaining the pool.
Don't forget that Sun Pools offers financing packages through Wells Fargo.
Do we have the space for a pool?
An above-ground pool takes up a fair amount of space. You'll need to factor in the space for a deck or patio around the pool, too.
If you have the room and your lot is level, you're good to go!
Residential zoning codes could also be a factor in this. We offer an impressive selection of Doughboy and Sharkline above-ground pools to fit nearly every yard.
Who will take care of the pool?
You'll need to factor in regular maintenance, which includes keeping the pH levels balanced, skimming the surface of debris, and vacuuming the bottom. You'll also need to close and cover the pool for the winter.
This is often a DIY project for the homeowner, but some folks prefer a pool maintenance company. A pool company will add to your expense but also do the work if you prefer not to.
How will the pool impact our lifestyle?
Adding a pool will definitely change your life, so it's important to think about how it might impact your daily routine and the activities you enjoy regularly.
If you love to entertain, a pool can be a real asset. But if you're not home often, you might want to think twice.
The same goes for young children – if you have small kids at home, a pool might not be the best idea.
You also need to think about how much time you're willing to spend on maintenance. Remember, a pool is a big responsibility.
Once you've answered these questions, you'll have a better idea of whether an above-ground pool is right for you. If you decide to go ahead with your purchase, be sure to visit Sun Pools.
Above-Ground Pools At Sun Pools
As you can see, there are a few important things to think about before you get an above-ground pool. But once you've decided that you want one, Sun Pools is here to help. We've been in the business of manufacturing and installing above-ground pools for over four decades.
We offer a wide range of pools, from basic to luxurious, and our team of experts will work with you to find the perfect pool for your yard and budget.
We also offer a variety of financing options to make your dream pool a reality. So come and visit us!
We're located on Rt. 22 in Green Brook, N.J. Visit the Sun Pools showroom today, ask us a few questions, and find your next above-ground pool or hot tub.